Bio
The "Story" of the Karmic Jesters 
 Some time ago two brothers emerged out of the swamps of the Lucy Anna Buy-Yous (their Momma's Five & Dime store) - muddy and wet but otherwise fully dressed. They brought with them a sound – songs that crossed across many musical genres and influences. They called themselves "Karmic Jesters" as they couldn't think of a better name, so that one just kinda stuck. 
 One brother owned a guitar and could play it on occasion. The other had the voice of an angel - a very bad-ass angel that even the devil claimed to envy. He also owned the gift of words, because the words were his but he never actually paid for them. So maybe he stole the words or simply found them lying around somewhere. No matter how he came by 'em, he used those words to create songs that people would hum, and sing and occasionally fornicate to.  
 Now the brothers weren't one of your typical run to the mill one hit wonders, as they tended to fight a lot back in the day. Though one did tend to do most of the hittin' and other tended to do more of the runnin' (and yes, it was usually to the mill to hide), there was nothing typical about 'em. 
 But the times weren't easy for the brothers. They each suffered many trials and tribulations, which led to some prison time - otherwise known as marriage - forcing the brothers to abandon their musical aspiriations (is that a word???)  Their music was thought to be lost - wandering aimlessly through a desert of static radio frequencies and silent phonograph records (as CDs and internet streaming weren't yet invented)… Lost, until now. 
 And now, after 40 years and 40 nights, the brothers have triumphantly returned.  And with them, they bring some of their classic hits (you know the ones I'm talkin' about) and also some new ones that are destined to one day become classics in their own right… or someone else's right - makes no difference to the boys just as long as they get paid. 
What happened to the brothers in the intervening years is anyone's guess. In time maybe, if we are fortunate, they well tell us through hummable, singable and fornicatable tunes. I certainly hope so as that would be of great interest to Larry and I. Oh… this isn't our story… but it's a good story so we're sticking with it.  
 And of course, every bit of this is true…
...as far as you know. 
TB  9/11/2018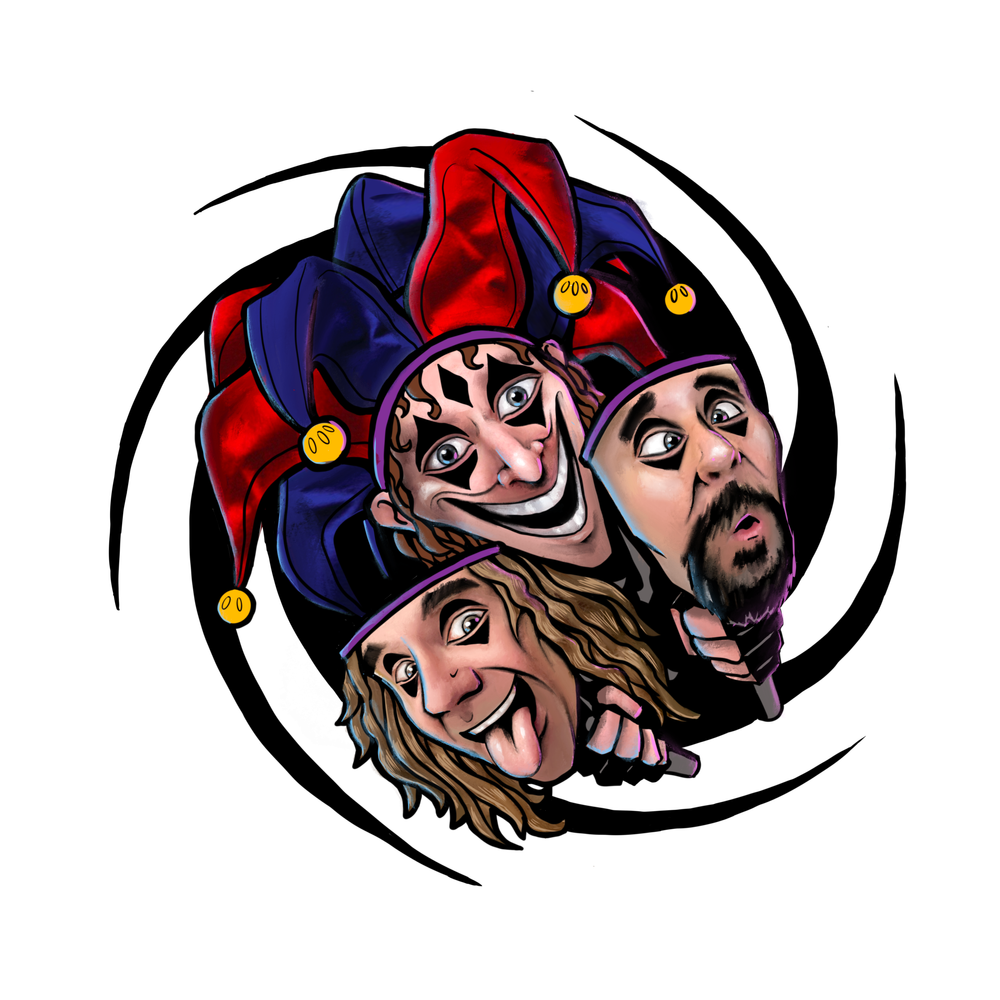 Truly, who the heck is Karmic Jesters?
Well lemme tell yas...
isKarmic Jesters was conceived one evening in spring of 2013 after a couple of Belvedere martinis and a foolish notion that a guy who "didn't know how to play an instrument and couldn't sing worth shit" could actually start a rock band. No shit!
That guy was Timothy Boggs (who happens to be the same person who is presently pecking at the computer keyboard).
Tim (as he likes to be called) laughed at this preposterous notion but set out to write a few Blues ditties - not sad depressing Blues, but funny, irreverent Blues (figuring he didn't need to sing well to sing the Blues). After completing a few song lyrics/melodies, he called his big brother Larry back in their hometown of Bartlesville Oklahoma to get his opinion on the said ditties. Larry, a life-long musician and certified "Guitar Wizard" (and who claims to have earned HUNDREDS of dollars a year as a working musician) grabbed his guitar and the new compositions began to spring to life. A few months later, Larry joined Tim in Los Angeles to begin recording the songs, eventually moving to California where they share a house/studio and continue to record. It took a little while, but the compositions eventually evolved to where they are presently.
To complete the compositions, the brothers enlisted the help of some fantastic musicians:
Dan Antonovich was a God Send! Dan's bass, occasional drums, guitar and keyboards, and his musical genius, took the compositions to a higher level. Unfortunately, at the beginning of COVID, Dan moved back to his home in Aukland New Zealand. We miss him dearly.
Other players who have contributed are:
Dave Bach - Drummer extraordinaire. Dave contributed greatly to some of our early recordings (many we have yet to release as of this date). He also provided the studio to record our next musical participant - the amazing...
Scott Page. THE Scott Page! - Saxophonist for Pink Floyd, Toto and Supertramp (just to name a few obscure bands). Scott plays Sax on "Bad Bad Boy" and a few others songs yet to be released.
Last, another "Brother" who has yet to make an appearance on what has been released so far but was instrumental in Tim's musical growth and the evolution of Karmic Jesters, is Mark Parsons. Mark plays fiddle, flute and guitar on some of Karmic Jesters upcoming releases. Mark helped Tim flesh out some of the early tunes before Larry and Tim started working together in earnest. Mark has sort of "fallen off the grid" in recent years after his beloved wife Shelly lost her battle with cancer. Hopefully we will hear from him again soon (I have a bunch of his stuff in my garage he needs to collect!)
Karmic Jesters is primarily:
Tim - Lyrics & Melodies, Vocals and some guitar, keyboards and percussion. He also plays rhythm Electric Sitar on "Sometimes..."
Larry - Guitars (most of them), plus some keyboards, drums, percussion... just about everything when I come to think about it. Larry takes Tim's simple ideas and makes turns them into complete compositions.
Dan - Bass on most songs, plus keyboards, drums and guitars. Dan helped "raise the bar" on Tim and Larry's initial compositions and demo tracks.
Tim is considered the "Instigator," coming up with the initial ideas, writing the lyrics, melodies and themes. Larry and Dan are the "Facilitators" - musical wizards who wear many hats and who take Tim's rough musical ideas and transform them into complete and detailed compositions. While Tim is mostly the Singing Ring Master, directing the compositions, he is smart enough to know when to trust the true geniuses in the room when there are disagreements. The best ideas ALWAYS come first.
Both Larry and Tim share in the mixing responsibilities.
That pretty much tells you the gist of the story of Karmic Jesters. More details to come as more songs get released.
If you like what you hear, please share our music and website with your friends and family on social media, and ask them to share as well. You fans are our lifeblood. Without ears to listen, the songs would remain silent. Please share, and let them SING!
Happy listening everybody!
T - 7/7/2023